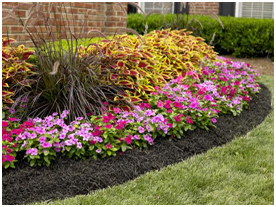 A well maintained lawns is not only mowed, but also has strong, clean, distinct edges around all the paths, sidewalks, borders, gardens and anywhere there is a transition. Transformations Landscaping generally performs lawn edging in the early spring for our landscaping clients, to provide a full season of great looking lawns and adding definition, form and a clean look to the grounds.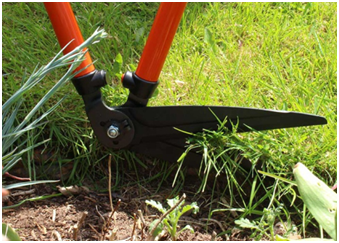 Untidy lawn edges created from grass growing onto surrounding borders is easily corrected using this lawn edging process. A pair of lawn-edging shears works great for cutting away any long protruding grasses that encroach onto the borders. Long-handled shears are great lawn edging tools that allow you to get the edges done, without having to bend over.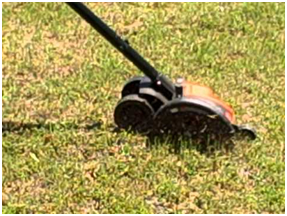 If you have a large area to edge, there are many powered line trimmers with rotating heads that can be used. For a power edger to be effective, they should have a roller or similar guide to help cut the edges in the right place. These tools are great for creating tidy lawn edges quickly.
Another great lawn edging tool is the sharp edge of a spade or, better still, a half-moon edging iron which lets you create or re-shape wonderful wavy edges.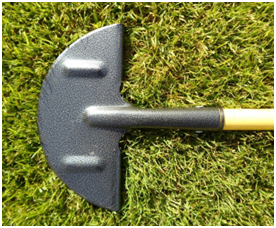 A trick to making straight lines is to use a short plank of wood as a cutting guide. For perfect wavy edges, a garden hose can also be used to map out the curves. Be careful not to cut your hose though!
CORRECTING BROKEN LAWN EDGES
Broken edges are common in lawns that have frequent wet areas, harsh conditions, or uses beyond the norm. Broken edges make mowing and edging far more difficult. Here's a quick and easy repair suggestion.
Using a sharp spade or half-moon lawn edging tool, cut a square section of turf that contains the broken edge. Undercut the turf to remove it, and then turn it around 180°, so the broken edge is now pointing toward the lawn and away from the edge. The straight edge should be aligned with the lawn edge, making things neat and tidy. Fill in the broken area with sieved garden soil or potting compost. Level and re-seed the area with fresh grass seed. In not time, the area will blend into the lawn. Be sure to keep the area watered until the grass has gotten a good start and is growing well.
If lawn edging isn't something you want to undertake yourself, give Transformations Landscaping Ltd a call or email. Our crew are experts at producing clean, strong lines around all lawn edges. For strata properties, commercial property and industrial lands, needing a landscaping company to service their landscape needs – we're here to serve you. Call us at 604-316-7792 or visit our website at https://transformationslandscaping.com & fill out our contact form.